The fourth edition of The Penguin Companion to European Union, by Anthony Teasdale and Timothy Bainbridge, was published by Penguin Books on 27 September 2012.
880 pages. £25.00. ISBN: 970-0-141-02118-8.
You may purchase copies of the book on the Penguin website at:
http://www.penguin.co.uk/nf/Book/BookDisplay/0,,9780141021188,00.html
The London launch event for the new edition of The Penguin Companion to European Union, held at the London School of Economics (LSE) on 19th October 2012.
Left to right: Anthony Teasdale, Philip Stephens, Professor Maurice Fraser, Sir Stephen Wall, Professor Simon Hix.
LSE seminar – 19th October 2012
A parallel launch event for the book was held at Waterstones' Brussels bookshop on 29th November 2012 – followed by a further 'European double act' conversation between Anthony Teasdale and Richard Corbett, political adviser to European Council President Herman Van Rompuy, at the bookshop on 21st March 2013.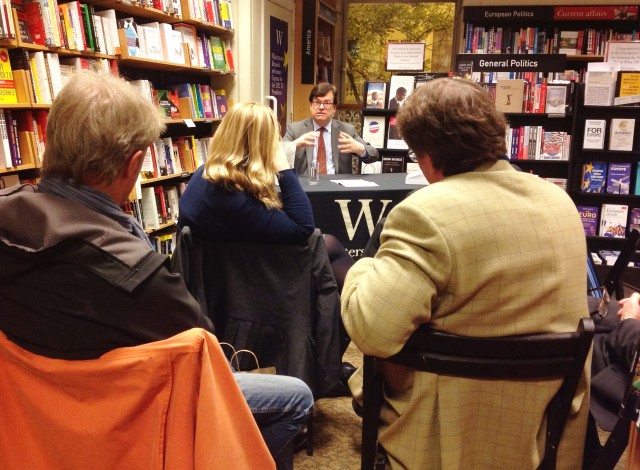 The Penguin Companion recommended at Waterstones' Piccadilly bookshop, London:
Across the Atlantic, the School of Advanced International Studies (SAIS) at Johns Hopkins University, Washington DC, hosted a seminar to discuss the book with faculty and students on 12th February 2013.
Anthony Teasdale meets with Andras Simonyi (first below) and Dan Hamilton (second below), respectively Managing Director and Executive Director of the Center for Transatlantic Relations at SAIS: